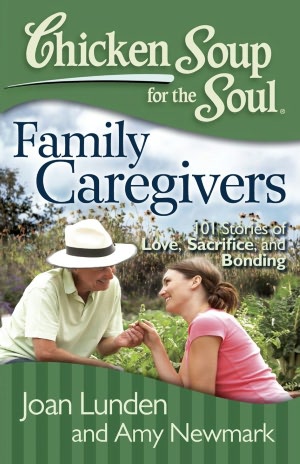 Do you have a family member who requires constant care? You are not alone. This collection offers support and encouragement in its 101 stories for family caregivers of all ages, including the "sandwich" generation caring for a family member while raising their children. With stories by those on the receiving end of the care too. These stories of love, sacrifice, and lessons will inspire and uplift family members making sacrifices to make sure their loved ones are well cared for, whether in their own homes or elsewhere.
Face it, our parents may not need our help right now, but what about our Grandparents? Someone always needs out help and it always feels good to have someone to "Talk" to, listen to how other people handle their situation and create a little bit of hope and help.
The new Chicken Soup for the Soul book reveals stories from people of all ages who take care of family members, at home or in outside facilities, are filled with emotional support and practical advice. You'll be inspired and feel appreciated as you read all 101 of these personal glimpse into the lives of other family caregivers, including:
How Joan Lunden manages the care of her mother at the same time she is raising young children, as part of the Sandwich generation.
How Jill Eikenberry and Michael Tucker moved Jill's elderly mother next door- they eat family meals together, prepared by their daughter
How Leeza Gibbon's mother planned for her Alzheimer's disease and Leeza's tips on how to accept and manage the diagnosis and care
These are just a few of the wonderful stories that are available, there are of course 101 in all and one more inspiring and encouraging then the other. This is another wonderful book in the Chicken Soup for the Soul line and it will inspire and give hope to many of us; you don't want to miss it, so be sure to check it out the next time you are out and about.
For more information be sure to check out Chicken Soup for the Soul on the Web or follow on Facebook or Twitter.
You can purchase any of the Chicken Soup for the Soul books through your favorite book store, Amazon.com or Barnes and Nobles.com and each book also comes for Kindle, Nook or Ipad devices; they retail for approx. $14.95.
3 Lucky 2Boys+1Girl=OneCrazyMom reader will be able to check this book out and get spoiled with stories of hope, truth and just "talk"; be sure to enter below for your chance to win.
We received the product for our honest review; all opinions are 100% our own and no other compensation was nor will be received; the winner will receive the product directly through the Giveaway sponsor; Facebook is not associated with this giveaway and is hereby released from any and all liability.
Melanie a/k/a Crazy Mom is a mother of three, a Tween, a Teen and a Toddler, she loves to review products and tell the world about a good product as well as give savings tips and ideas on how to budget, save with coupons and create yummy family recipes that are cheap and flavorful.