It's that time of the year and we are trying to spread some cheer…..we have another wonderful Holiday Gift Guide Giveaway to present to our wonderful readers.
We have teamed up with the wonderful folks at Hallmark and are super excited to bring you just in time for the Holiday Season "Jingle" the interactive Story Book and Story Buddy. What better way to start off the Holiday season than to spend some time with your loved one, cuddle and read a story. That's exactly what the folks at Hallmark thought, too and agreed in giving one lucky 2Boys+1Girl=OneCrazyMom reader their very own "Jingle", completed with his book and batteries to get the fun started right away.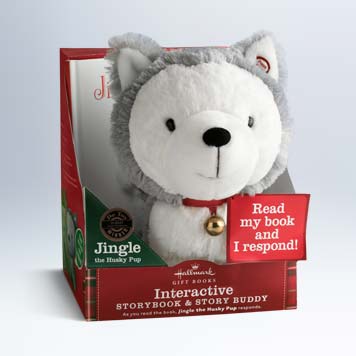 For more information on Jingle or any of the other Interactive Story Buddies, be sure to check out Hallmark.com, on Facebook or on Twitter and don't forget to read our review about Jingle.
I received the product listed above for our honest review; all opinions are 100% our own and no other compensation was nor will be received; the winner will receive the product directly through the PR company. Facebook is not associated with this giveaway and is hereby released from any and all liability.
Melanie a/k/a Crazy Mom is a mother of three, a Kindergarten Princess, and two Teen Boys. She loves to review products and tell the world about a good product as well as give savings tips and ideas on how to budget, save with coupons and create yummy family recipes that are cheap and flavorful as well as many DIY items around the home.