Mom's are special, we all know that and the best part, everyone has one!! Being a Mom of 3 is very special to me and I couldn't imagine being without my three munchkins, ever. I love being a Mom and sharing all I know with my children and see them grow up day by day. It does break my heart how fast they grow, but they sure are amazing.
I also, just like you, have a Mom of my own. I haven't seen my mom in many many years and we actually have very little contact, with her being in Germany and I'm in the States. I miss my mom dearly and keep thinking of her every day; now that our trip to Germany is getting very close, I can't wait to see my mom and get some much needed TLC and HUGS. What better way to show my mom how much I love and missed her with a beautiful Diamond Necklace that I will bring her when we meet in June.
This picture was taken the last time I saw my mom and is just very special to me… Long time ago.. way too long (over 5 years now and my grandparents, dad and family I haven't seen in 12 years :0( ).
However, Mother's Day is right around the corner and Helzberg Diamonds wants to help you celebrate your Mom in style this year. Whether you want to express gratitude to your mom with thoughtful words or a little sparkle, Helzberg Diamonds is here to help you show her she is loved and appreciated for everything she does — big or little.  
Helzberg Diamonds knows what mom's want and need and with everyone's pockets being a little tight this year, they wanted to offer something very special, check out the Sweepstake info below and be sure to enter!
$5,000 Shopping Spree Contest
Enter your Mom in the Show Mom She's Loved Contest – and encourage your family to nominate you, too. Tell Helzberg Diamonds the special way she makes you and others feel loved  for a chance to win a $5,000 Helzberg Diamonds shopping spree. Your best stories, photos and videos about the special mom in your life are all welcome. Contest entries can be shared by children (18 and older), spouses/significant others, family and friends. The contest begins Tuesday, April 10 and ends Friday, April 27, so hurry and enter for your chance to win this amazing Shopping Spree that any MOM would LOVE to enjoy!
For more information
about Helzberg Diamond's Show Mom She's Loved Contest or to nominate your Mom, be sure to visit the contest page
HERE
.
I picked a very special necklace for my Mom and when it arrived the other day, I couldn't stop looking at it. I know she will love it and everyone will comment her on how delicate and precious the pendant is.
This is the Pendant I choose for her. Isn't it beautiful? The best part, I didn't have to mortgage my kids or get a second job to show my Mom how much I love her. Helzberg Diamonds truly has something for everyone in every price category. However, don't ever feel bad if you can't afford the $500 diamond Pendant, that yes, Mom would soo deserve, but I know she will appreciate anything you pick for her, it's the thought that counts and that you are showing her your love and appreciation.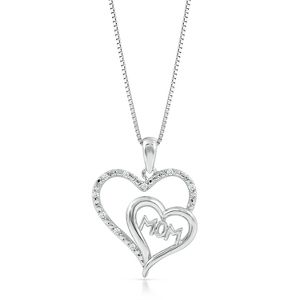 Smart Value® MOM Heart Pendant Sterling Silver 1/20ct TW Round Diamond Mom Heart-Shaped Necklace Smart Value®.
Sterling silver double heart MOM pendant with round diamonds weighing approximately                1/20 carat TW
Sterling silver 18 inch rope chain
Isn't it beautiful? I just can't wait to put it on my mom and see the love in her eyes and how proud she will be wearing it day in day out. Just makes my heart melt already… and the hardest part, I have 7 more weeks to go till I see my mom, you on the other hand only have a little over 3 weeks left to pick your mom the perfect gift for Mother's day, you better Hurry and maybe check out Helzberg Diamonds and they will deliver right to your door (or your Mom's door..lol)
I know all my readers do an amazing job day in and day out raising little Princess's and Prince's so you deserve something special as well, how about a Giveaway courtesy of Helzberg Diamonds (a Special THANK YOU to the amazing people at Helzberg Diamond for this amazing opportunity..THANK YOU!!). Be sure to enter below for this amazing Pendant in time for Mother's day…… Good Luck.
Giveaway
We received the product for our honest review; all opinions are 100% our own and no other compensation was nor will be received; the winner will receive the product directly through the Giveaway sponsor; Facebook is not associated with this giveaway and is hereby released from any and all liability.