As you know, we are in Monsters University fever; since the kids received their fun toy box a few weeks ago all I hear about is "Monsters University". We loved the Monsters Inc. movie so I know the Monsters University will be a lot of fun as well.
If your kids are like mine, I decided to put together a few craft ideas that I found around the web and Pinterest to get you some ideas on how to keep the kids entertained #MonsterUniversity style.
Get Crafty with #MonstersUniversity
1. Create a Home for your Monster – Looking for a fun craft project to make your monsters feel welcome in your home and keep even the little ones entertained and busy for a while, head on over to One Artsy Mama to see how simple it is to welcome your little monsters with their own home.
2. Create your own Mike PomPom Monster – Looking for another simple yet super cute craft? head on over to The Frugal Greenish Mom to see how she created this cute green Pom Pom Mike Monster, will be a hit with my kids and I know yours as well.
3. Make it pop with this super cute craft/snack idea from As the Bunny Hops; I love this idea and it's super simple; check it out she will show you how to create your very own, too.
4. Keep it in a box with Monsters University juice boxes. This is such a clever and simple idea, that would be perfect for any party or just to show up for dinner one day. I loved it the minute I saw it and knew I had to share it with you guys. So head on over to A Pumpkin and a Princess to see how simple it is to create these.
5. Get dressed up in a Mike Wazowski T-Shirt; this is super cool and cute and yes.. totally simple. Check out how 30minutecraft.com created this shirt. Perfect for your little one or your next Birthday party with the Monsters. This would be fun for each child to wear during the party and to take home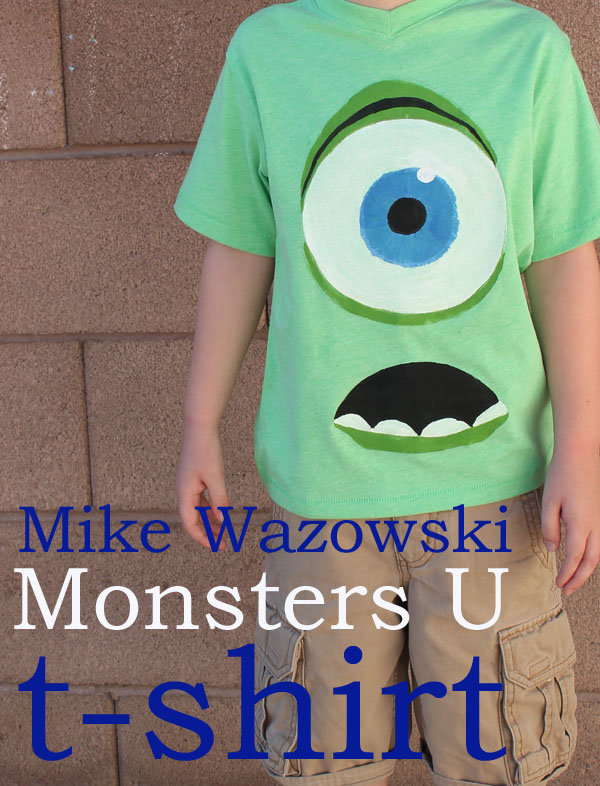 Now you have some super fun and cute ideas on how to get the kids involved in Monsters Inc. fever…. Do you have any ideas you like to share? Which ones was your favorite one??
Happy Crafting… and keep on scaring with your Monsters …