Now who hasn't heard of the name Jump Start ?  Jump Start is a household name because of the wonderful products they have created and are still creating today.
I was very surprised to find out that Jump Start moved into the new century and are now creating games  for the Wii; perfect timing since my toddler is hitting the age where she is interested in her big "bubbas" electronics. Sometimes I think the little ones are born with the new technology, I mean 10 years ago who would have thought that a toddler knows how to play on the PC and the video games we have now?? Amazing.
So I was excited to surprise my 3 munchkins with this Jumpstart Get Moving Family Fitness Wii
game; this game has 18 fun sport
games that incorporate the Wii remote and the Nunchuck as well as the Balance Board, you can play multi player or solo selection and compete head to head against friends and family; each world has levels that will be unlocked based on fitness and gaming process. Game includes: basketball, baseball, biking, boxing, flying, football, volleyball, speed skating, and more!
Some Features of this game include

Design your own character to race and play

Build customized routines for extra challenge

Compete head to head or play solo

Play underwater, on a farm, in Egypt or 8 other exotic locations

Access expert tips for more ways to stay healthy

Train with Brooke Burke to make the most of every motion
So the last few weeks it has been way too cold in central Florida to even think about spending time outside, so we pulled this game out and got the kids moving… We had a blast, everyone got to let our their "winter Blues" and we got a bunch of laughs in, in between.
The toddler loved to play tennis and had a hard time figuring out why she missed the ball, her big brother the Teen came to the rescue and they both played together, what a fun play date she had; the older boys of course needed no help nor explanation. They opened the game and went to town.
First a basketball competition then a race and still no end in sight; all I heard was the "competition" out of their room… it is a lot of fun
to watch them all interact together and have fun.
I'm not sure how much "actual" exercise the kids get on this game but they sure get a lot of moving and up and down and a lot of laughs; they say laughing will make you loose wait, so this game defiantly will make you laugh a lot.
I did a little research ahead of my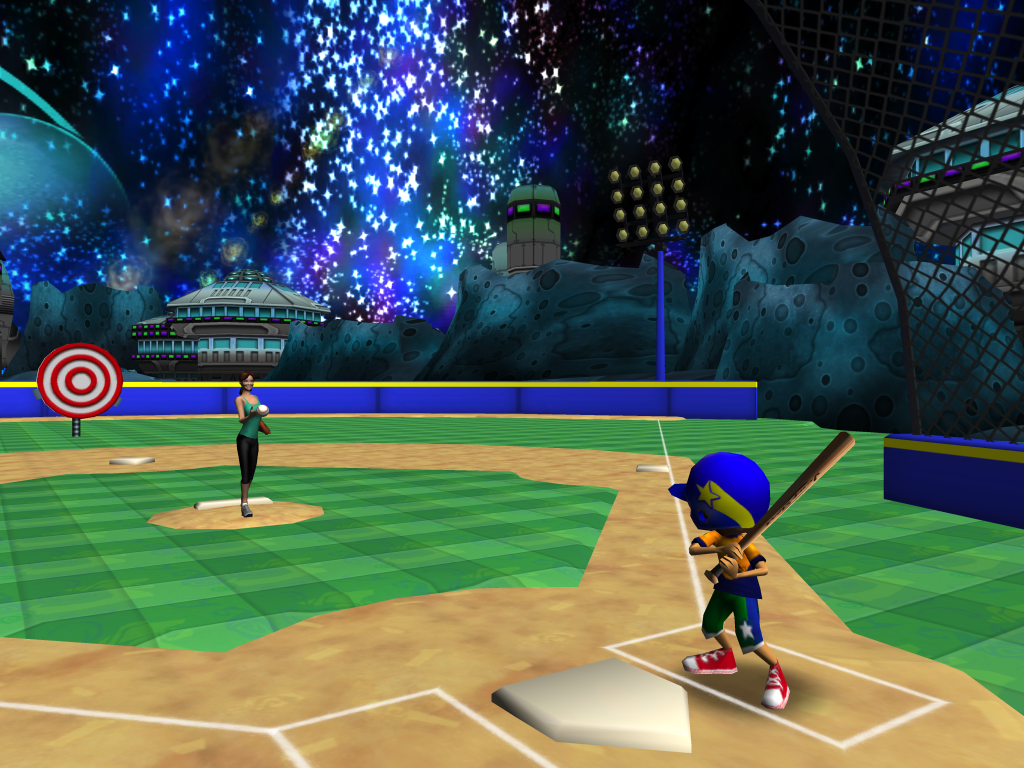 review and found that reviews on amazon to be kind of bashful; it may be true that a lot of Mommy blogs reviewed this game, but just because I was given a free copy I don't have any obligation to write a "GOOD" review, I will write an honest review; I can not answer or defend what other Mom's have said but my readers expect from me to hear the truth and that's what I present them.
I can honestly say we love this game. Are the games on the game original, or fancy; not really. You can get other Wii games where you can play basketball or run a race, but my kids still loved the game and enjoyed it for hours and still enjoy it. My Tween and Teen played this game almost every day in the 2 weeks we have it now and they are not bored of it just yet.
They love the fact that this game is geared towards kids with the fun characters and backgrounds, you can also change the background to 10 different background looks, so the game they play is the same but what they are looking at, is always different, my toddler would never know that  she is in the same game if I change it from a Farm to Space.. she was excited to see the new background features. That's what kids love, they like the simple things to stay the same, but love a small change and that keeps them going.
That being said if you are looking for a fancy workout game or a HIGH Quality graphics game, this is not a game for you. This game is geared towards kids from toddler age up with very simple graphics and game combination, for every toddler, pre-schooler to understand, however the entire family can "play" together and have fun.
That's the purpose of the game; how much fun would your Toddler have if you get a game with 30 pages of instructions before the toddler can play.?So please consider these are still children that play this game. I know I forget all to often that my toddler is not at the same level as my Tween, and I know we all do.
So my opinion on this game is "Wonderful game"  and a great company that produced this game. You can check out Jumpstart Get Moving Family Fitness Wii
on Amazon.com
or any of your favorite online or local retailers and it retails for $29.99, which is the same price range as any other Wii (kids) game. For more information you can also check out Jump Start and their Blog. You can follow Jump Start on Facebook or Twitter
If you like to give this Jumpstart Get Moving Family Fitness Wii
a try, why not enter my Giveaway. Jump Start graciously offered one of my readers this game as a Giveaway.
Giveaway Rules:
Mandatory:
Why would you like to win this game ?

Extra Entries:
Follow me on Facebook (1 entry)

Follow me on Google Friend Connect or NetworkBlog (1 entry)

Follow me on Twitter (1 entry) ( you can also click below on the Share button)


Tweet about this Giveaway  and include @mausekindmom ( one entry per day)

Subscribe to my Newsletter or reader ( 1 entry)

Blog about this Giveaway ( 10 entries)
Leave one comment per entry!!!! This Giveaway will run from 1/18/11 – 2/1/11 @ 9PM; winner will be picked through  WordPress "And the Winner is" and will be announced on the Blog and I will send an e-mail. The winner will have 48hrs. to get back to me with mailing info. All items will be mailed from the Sponsor. US ONLY!!!!
I was  provided  with the product listed above for my honest review and the prize for my winner . No other compensation was received. All opinions are 100 % my own.