With school back in full swing and schedules ramping up, it's easy to let our to-do lists, emails, Facebook messages and crazy schedules take over, while the meaningful moments of life pass us by. This fall, though, Hallmark is issuing a challenge to help quell the daily technology takeover and to encourage all of us to push the "pause" button on the blur of life.
As part of its Life is a Special Occasion campaign, Hallmark is launching BlogOut — a challenge to turn off technology and turn up the relationships with those around you.
We are asking you to turn off technology for a moment, an afternoon or even a day to give you time to celebrate the unplanned, perfectly imperfect moments you share with those who mean the most to you.
This Crazy Mom took the challenge and we turned off the phones, PC and any kind of electronic for an entire afternoon and we just spend time as a family; it was wonderful. not a worry in the world just a lot of laughter and giggles and little feet running across the floor. We definitely have to plan a "TIME OUT" more often, maybe once a month.
One big helper during our TIME OFF was the Cooper the Bear; he's an adorable fluffy bear, perfect size for a Toddler or even pre-schooler, but what makes Cooper so special, he talks and interacts with you when you are reading a story; it was so much fun. The Toddler of course totally believed that the bear is talking to her and me, it was the cutest thing. The older boys knew he was programmed, but kept their lips sealed and enjoyed the story.
The book is too cute and the story line is adorable for any little boy or girl and for a Time Out Story. Cooper the bear comes with one complimentary book at your Hallmark Store when you buy Cooper the Bear (or any of his friends, there are a few different ones to choose from) and you can purchase extra books to have Cooper the Bear interact even more; these books run for $9.99 and are so worth it. They are on my Toddlers Christmas must have list! Cooper the bear retails for $29.99
There is also an interactive iPad/iPhone App for each of the characters, the App for Copper the Bear can be downloaded for FREE here. This bear sure was a wonderful time out and we are super excited about having Cooper in our family. I even love the look of the bear; he's cuddly and cute and just so lovable, best part he never talks back in a rude manner…:0)… always polite and has an answer waiting for you… we also asked the same question a few times back to back and he gave a different answer each time. So much fun.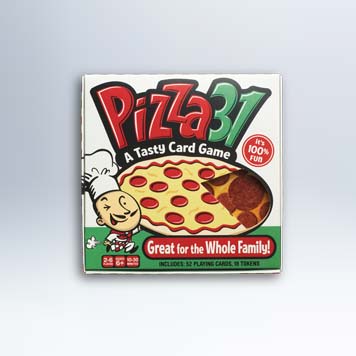 We also played a fun Pizza game with the kids during our time out. This is a 31 card game that helps little ones count and match. My Toddler loved creating her own pizza and the boys just thought it was cool and spend hours with the toddler. Loved how they played together and helped each other out. I had no idea that Hallmark even has games and this is such a cute one. It can be found in store only and is only $12.95.
For more information, be sure to check out Hallmark.com, on Facebook or on Twitter.
We just knew that this Cooper the Bear has to be in one of our readers home for the Holidays and Hallmark agreed and offered Cooper the Bear and his book to one lucky 2Boys+1Girl=OneCrazyMom reader so they too, can enjoy a time out with their family.
I received the product listed above for our honest review; all opinions are 100% our own and no other compensation was nor will be received; the winner will receive the product directly through the PR company. Facebook is not associated with this giveaway and is hereby released from any and all liability.