As some of you know, I won the Battle of the Blogs 2010 and my prize was an iPad. I was super excited but honestly had no idea what it will do and how it will work for me. The iPad of course runs anywhere from $500 and up, so not a very cheap toy at all.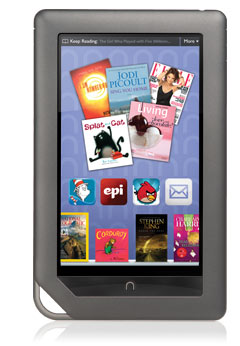 As time went on we started to use the iPad more and more for things like e-mail, watching movies, reading books, web surfing and so on. I'm sure we are not using the iPad to it's fullest potential, but then again…. for us the iPad was and is just a Novelty item not a MUST have item. Some may argue with me and that's completely fine, but everyone is different and puts things to different use.
Which brings me to my tween, he is a Book worm, loves to read anything he can get his hands on. He hogged the iPad for days at a time; finally I made a suggestion to him to save all his money from Birthdays, Christmas and anything else that may come up and look into maybe a Kindle.
My Tween took it one step further, he researched between the iPad, the Kindle and the Nook and came to the conclusion that he wanted the Nook Color. I was a bit shocked at the sticker prize of about $270; I was kind of hoping he would get the Kindle, which is available for $114.
The good mom that I'm, and the bargain hunter that I 'm I wasn't gonna let my Tween buy something that is NOT on sale…. so I did a little research of my own and I found a great deal a few weeks ago for the Nook Color and it ended up $199, it is a refurbished one, BUT has a full 1 year warranty just like a brand new one and honestly in most cases there is no difference between new or refurbished, but the price.
So the Tween had his money saved, he actually was expecting to pay $270 for it, it was his money that he had saved since last Christmas and I wasn't going to tell him No, just wanted to make sure he had thought about it long and hard, that's a lot of money.
He was excited when I told him about the $199 deal and was even more excited when he realized that the extra money he had saved he would be able to buy books for his new toy
. So I ordered it and it arrived at our door the other day.
I had no clue what the Nook Color was other then I thought it's another name and company but the same thing as the Kindle. Boy was I wrong.
This Nook Color is amazing; I had no clue ALL the things you can do with it, it is very comparable to the more expensive iPad.  If you are in the market for an e-reader I would highly recommend you check out the Nook Color. It will let you do all these things:
Surf the web

Buy books and share the books on any of your other devices

You can shop the Nook App store, more Apps are being added on a daily basis and it is rapidly expanding.

Check and send e-mails

watch videos from you tube

You can play games

Read newspaper and magazines

it's a Touch Screen

listen to Music like an MP3
I'm sure I forgot a few things BUT these are the main things we use the iPad for as well.. so for a fraction of the price you can have a tablet that hasn't really been advertised as such. I'm amazed at all the features this little thing has and what it all can do.
It is about 1/2 the seize of the iPad, very light and easy to hold in the hand. The Nook Color comes with features like volume up or down and adjusting the brightness. Another thing I really like about eh Nook Color is that it will hold a micro DS card, which will expand the size of the Nook, the iPad only comes with a specific hard drive like 16MB and up and the bigger you want the more $$ it will cost ya; I love that the Nook doesn't have a set requirement and it makes it easy to take the DS card insert it to your PC and load pictures, music and video and after you loaded all your favorites you can put the card into the Nook.. voila done… LOVE IT…
I can not believe that Nook hasn't promoted all these abilities like you see all day for the iPad yet. I honestly haven't seen much of an advertisement, sure a little here and there BUT not to the extend that it is very comparable to the iPad or the Kindle.
If you are thinking of getting any kind of tablet for your little ones or yourself, most defiantly check out the Nook you will be pleasantly surprised.
Here is what my Tween had to say about his new found treasure:
Hi all, here is the Tween, this Nook Color is pretty cool, it's the best thing since I got my First Nintendo product, not even the Nintendo DSi can compare to this. It is virtually a miniature iPad; with touch screen and games that you are used to playing on the iPad or iPhone; the only difference it's a little bit smaller. I love the ability to read ALL my favorite books and they are very comparable in price to any e-reader books. There is so much to do and explore, I'm off.. gotta get back to my new toy.. see ya all…
I also like that now I have an easy  way to pay my Tween for his chores, I can just buy him a Nook Gift card and load it onto his Nook and he can use it anyway he likes. He loves that and he doesn't have to store all these huge books in his room.
As you can tell, we are super excited about the nook Color and I'm so glad that the Tween did his homework and decided on the Nook Color over the Kindle.
We would love to hear your insight what you like best,  is the iPad, the Kindle or maybe the Nook Color your favorite?  If you have any questions about either the iPad or the Nook Color, let me know and we will update the review immediately
The surge of eBook readers have made creating an eBook very affordable. If you're interested in making your own eBook, there are many resources on how to publish an eBook available online.
Where to Buy:
You can purchase the Nook Color through Varies Places like Barnes and Nobles.com or through Buy.com, you can check out the iPad through Amazon.com as well as the Kindle
P.s. we were not asked to write this review and all opinions are 100% our own, we did not receive any compensation or products in return for this review. Strictly wanted to tell my readers about another awesome product that we love…. We are in no way Affiliated with Nook Color, or Apple we do have Affiliate links for the products in case you decide to buy it we will make a small percentage
.