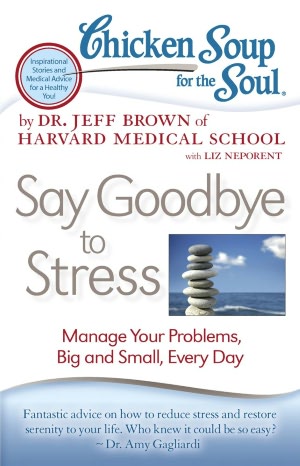 Stress?? What is Stress….?? Gee, this book is my ALL time favorite book, by far. You have to check out this Chicken Soup for the Soul: Say Goodbye to Stress: Manage Your Problems, Big and Small, Every Day
 book.
Everyone feels stressed out at some point in their lives. Many have trouble getting their stress under control and want help. This book, combining inspirational Chicken Soup for the Soul stories written just for this book and accessible leading-edge medical advice from expert clinical psychologist and Harvard Medical School instructor Dr. Jeffrey Brown, will encourage, support, and help stressed out readers
This book has over 200 pages full of fantastic advice on how to reduce stress and restore YOUR serenity to your life. It is that easy! The book is small enough to fit in any purse and can be taken anywhere to read, like in the car while waiting for the kids to get done with sports, waiting at the school bus or even between preparing dinner.
The book also has a chart of the 50 most Common Signs and Symptoms of Stress, I had NOOO idea that there are 50+ signs that will show you have stress and who would have thought by you using frequent over the counter medication ( Aspirin or Advil etc) is a sign of stress… how about do you have heartburn or stomach pain?? Yup.. stress related…. Wonderful advise in this book.
Where to purchase: I could go on and on, but I think this book is a MUST Have for every MOM, so be sure to pick up your copy next time you are in Walmart, Barnes and Nobles or looking around on Amazon.com; the book comes in Kindle/iPad version as well as the all time favorite paperbacks and retails for $9.95.
For more information be sure to check out Chicken Soup for the Soul on the Web or follow on Facebook or Twitter.
3 Lucky 2Boys+1Girl=OneCrazyMom reader will be able to check this book out and get spoiled with stories of hope, truth and just "talk"; be sure to enter below for your chance to win.
We received the product for our honest review; all opinions are 100% our own and no other compensation was nor will be received; the winner will receive the product directly through the Giveaway sponsor; Facebook is not associated with this giveaway and is hereby released from any and all liability.