Calphalon is a well known name in our home and about the only cookware set that we use. I used to think that cookware is cookware. Boy was I wrong when a few years ago the Calphalon set made its way to my stovetop; I have removed every pot and pan that is NOT a Calphalon. I love them that much, nothing has burned since, not even milk. Calphalon is a household name and well worth the price.
The only thing that drove me crazy, none of the pots and pans are dishwasher safe; so all the pots and pans for dinner had to be washed by hand and it always is a mess in my sink; I spend all day at the office and then when I come home to cook, I really don't have the energy to wash each pot by hand; so sometimes it has to wait till the next day and I truly HATE that; Love the set but I just need more time in the day to wash the dirty pots and pans.
Well… Let me tell you, I can't give you more time in the day, BUT… I have news, Calphalon finally has a brand new line of products, called Contemporary, pots and pans and all, yes… ALL are dishwasher safe!! What are you gonna do with #TheTimeYouSave ? Boy, I'm a happy camper, I jumped for joy and had to check it out.
One new product is the Panini Pan and since our family loves Panini's, we just don't like the cleanup a Panini Press needs after all the sandwiches are done, it was a given to try out the new Calphalon Contemporary Nonstick Panini Press that is dishwasher safe.
Make your favorite Panini in the Calphalon Panini Pan
Use your favorite bread, I used a ciabatta roll, was a bit thick, but worked well

Use your favorite toppings; I hat Tomatoes and Fresh Mozzarella cheese with Balsamic Vinegar and Olive Oil

Pre-heat your Calphalon Panini Pan for 2-3 minutes, till HOT (drizzle a few drops of water on to see if it's hot)
The Calphalon Contemporary Nonstick Panini Pan also comes with a heavy lid that you can press down your sandwich to make it a real Panini; it's very simple and only takes a few minutes. We played with the setting on our stove a bit. The first one, yes… burned. I blinked and poof it was burned, it was THAT quick; the others we lowered the heat and turned out amazing. Within 10 minutes we had dinner for everyone on the table.
I even made dessert while everyone ate. You don't wanna miss this, it was a HIT.
Nutella & Banana Smore's
This is what you need:
Nutella

Bananas

Marshmallows

Bread

It was simple and a HIT with everyone; the bread only took about a minute on each side, I did have butter on each side and everything melted and was gooey in no time. SOO … SOO… Yummy and would make a great breakfast, snack or even dinner idea as well.
The best part, cleanup was a breeze, even with the gooey marshmallow and Chocolate, the pan was fairly clean, but since the Calphalon Contemporary Nonstick Panini Pan can go into the dishwasher, I had lots of time to sit down and enjoy my dinner and dessert with the family and my kitchen was clean in no time. Say Goodbye to dishes in the sink, dishes on the counter waiting to dry and dishes all over your kitchen. They are all in the dishwasher now, let someone else do the dirty job and you can take #TheTimeYouSave to come up with yummy dinner ideas for the next night.
I'm super excited over the new Calphalon Contemporary Nonstick Dishwasher safe line and can't wait to try them all. Cooking is fun again and I have lots of time for my family and my kitchen is clean in no time.
Don't forget to check out Calphalon on the Web and see what the fuss is all about. You can also follow Calphalon on Facebook and Twitter. You can purchase the Dishwasher Safe Calphalon products at a retailer near you, Amazon.com, Walmart.com will also have Holiday Specials or directly through the Calphalon Web Store. Trust me; the products are worth their price and then some!! I wouldn't want to miss Calphalon in my kitchen, simply the BEST!!
GIVEAWAY time…
Our friends at Calphalon are so excited about the Contemporary Nonstick dishwasher safe series and want one lucky 2Boys+1Girl=OneCrazyMom to try out the Panini Pan in time for the holidays for themselves. So, be sure to enter the Giveaway below to call this amazing pan your own. Good Luck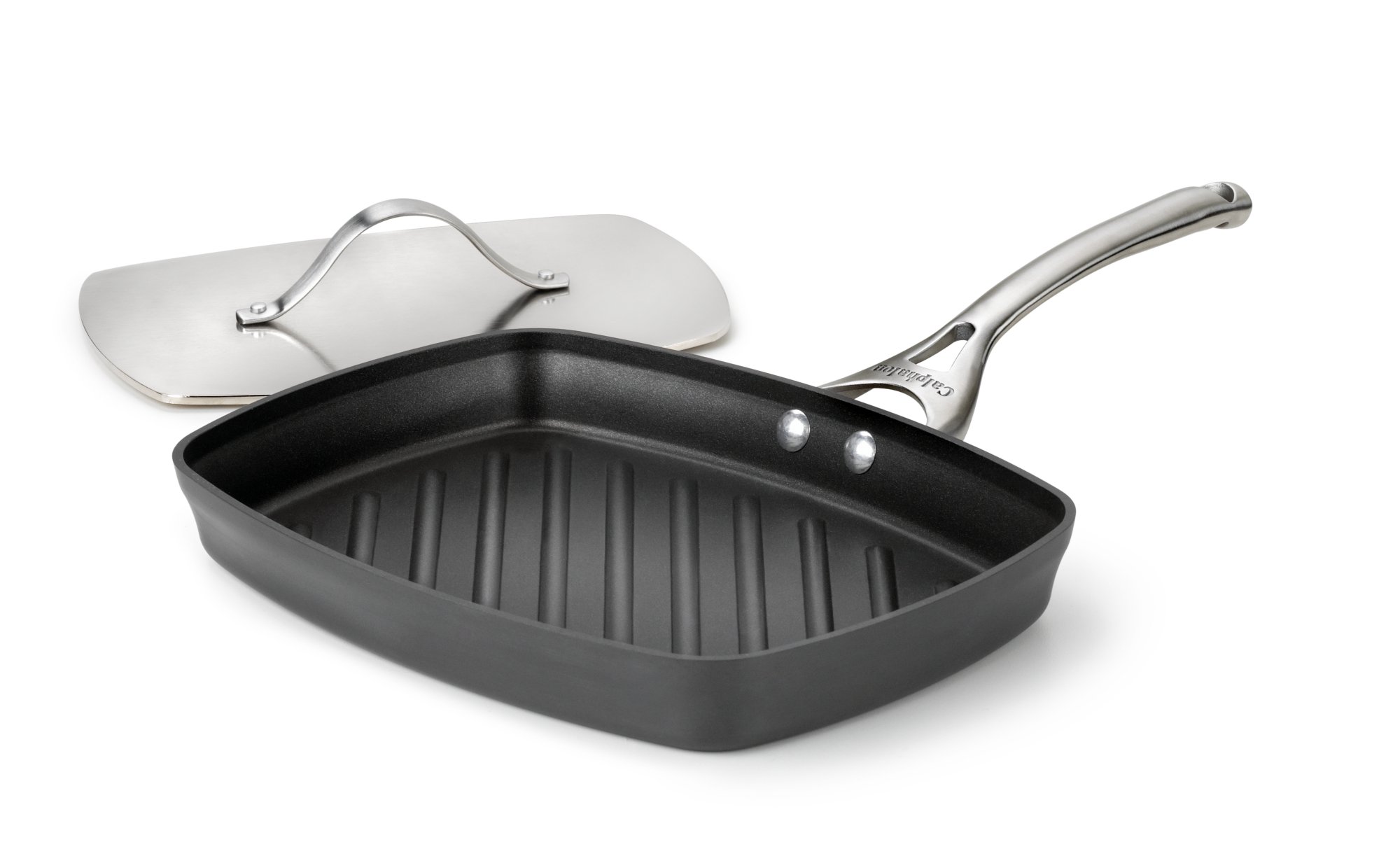 We received the product for our honest review; all opinions are 100% our own and no other compensation was nor will be received; the winner will receive the product directly through the Giveaway sponsor; Facebook is not associated with this giveaway and is hereby released from any and all liability.