This is a sponsored post written by me on behalf of Wendy's for IZEA. All opinions are 100% mine.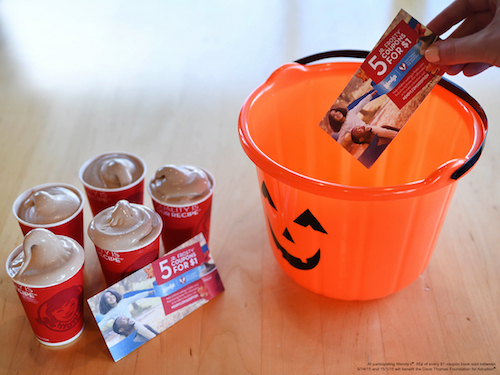 It's the most fun time of the year. October is the start of fall, the holiday season and even though October isn't really that different it will get quite spooktacular towards the end. Everyone is in the hype of little ghosts and goblins.
Whether You are 1 or 101 almost everyone to some extend will be celebrating Halloween in a few short weeks. Do you love to walk from house to house, hang out at a Halloween party or visit trick or treat events put on by local churches and business? Whatever your evening venue of choice is, it sure will be fun for all.
But, Halloween is always fun for the kids, mine loved dressing up and spend months debating and contemplating about the perfect outfit. Now that they are older and not really into walking house to house we like to hand out treats for all the little ghosts and goblins that show up at our door.
One treat that my kids always loved getting and we hand out to this day are the Wendy's Halloween Coupon Books*. They are pretty awesome and will keep giving in so many ways, long past Halloween and they are such a good deal, too.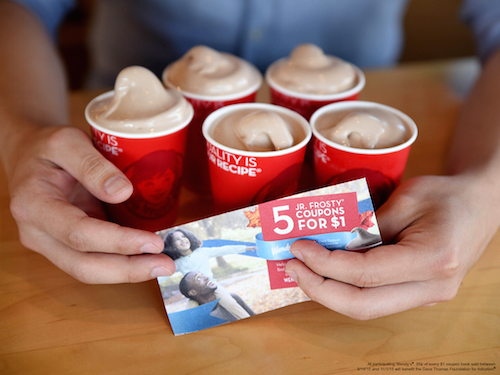 For $1, you can get 5 or 10 free Jr. Frosty coupons.* Isn't that pretty awesome? Another amazing thing, Give Trick-or-Treaters coupons for Wendy's Frosty® treats, and support finding forever families for children waiting in foster care. Funds from the sales of the coupons books will go to the Dave Thomas Foundation for Adoption®** to support programs such as Wendy's Wonderful Kids.
Did you know that as an adopted child, Wendy's® founder, Dave Thomas, knew first-hand the importance of having a family and Wendy's passionately supports the Dave Thomas Foundation for Adoption®, which Dave Thomas founded in 1992. The foundation works to find permanent, loving homes for the more than 130,000 children waiting in North America's foster care system. Every little bit helps to bring a little boy or girl closer to their forever home.
Dave Thomas always has been someone I looked up to, loved his philosophy and ideas and he believed that children in foster care "aren't someone else's responsibility, they are our responsibility." I loved that! Every child should have a chance, it's not their fault for how they ended up in foster care, but we can make a difference and give a helping hand. This is one cause I easily can support and love doing so.
Wendy's continues to support that belief through fundraising and collaboration with the Dave Thomas Foundation for Adoption. From September 14 through November 1, Wendy's is selling its Halloween Coupon Books. So before you head out looking for the perfect trick or treat giveaway, give the Wendy's Halloween Coupon Books a thought. You would be helping in more ways than one and put smiles on kids faces all season long and beyond.
Now head on over to Wendy's, pick up your lunch or dinner and order a few of the Wendy's Halloween Coupon Books to support kids all across America. Don't forget to check out the Wendy's adoption page, Wendy's Wonderful Kids and the Dave Thomas Foundation for Adoption to get more information about this wonderful cause.
What will you be putting in your pumpkin bowl this Halloween? Would love to hear it. Leave us a comment below, let's chat and see how we can get the word across to help kids all across the nation in a simple way.
* Number of coupons per book vary based on location;
** $0.85 cents of every dollar from the Halloween Coupon Books will go to support the Dave Thomas Foundation for Adoption.